CS-II manufactures high quality coatings and detailing products to enhance the finish of your vehicles. We use them to make your paint look deeper, richer, and more glossy than it ever has before. Their top of the line coatings are Ceramic and Titanium and both will yield super glossy protection from three to five years. We have specific coatings for wheels to protect against brake dust, windshield glass, plastic surfaces, convertible tops, interior leathers and fabrics. CS-II Ceramic Protective Coatings are a great choice for making your vehicle look great for years to come. 
Titanium Coating (permanent)
Allure Detailing Solutions provides the finest automotive titanium coating on the planet in regards to car paint. CS-II Titanium Coating is the next generation of protective coating for automotive surfaces. The extremely long-lasting crystal coat acts as a protective armour against acid rain, bird droppings, road film, tar and harmful UV rays. It maintains the luster and colour of the paint on your car with the best grade of hardness (9h) while its adhesive strength will minimize the appearance of light scratches. Thus, the paint is protected and given a longer life cycle. Another key benefit of titanium coating is that it offers a deep rich gloss and finish. Ultimately, this makes the future washing of your vehicle faster and easier!
Most sealants are either oil, paraffin, or wax based. These varieties of substances easily evaporate and can be easily removed with just a damp towel. They are also virtually defenceless against most environmental damage and daily use. Furthermore, the chemical reactions from these products may be risk-factors for discolouration and corrosion to the paint's finish. With CS-II Titanium coating, there will be no more need to spend hundreds of dollars or countless hours waxing your car. Just wash and go!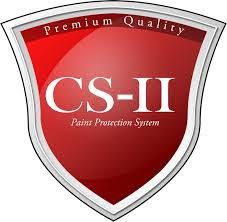 Ceramic Protective Coating (semi-permanent)
CS-II Ceramic Coating is a semi-permanent ceramic coating which only requires a single, thin coating and provides long-term shine and protection. By inter-locking part of its molecular structure with the surface molecules of your paintwork, the result is a coating that will not be washed off like a wax, and greatly reduces the penetration of heat, helping protect the finish of the vehicle. Once treated, your car will repel water and contaminants like a lotus-leaf and keep a clear, reflective, showroom shine. Ceramic Protective Coating cannot be removed by water, alkaline, other detergents, or by pressure washers.
Your car paint is vulnerable to external environmental factors. If you were to look at your paint work under a microscope, you would see that it isn't smooth; it is full of holes and looks much like a sponge.  Every time it rains, the average car will soak up over 500ml of water and contaminants! For traditional waxes, their particles are very large and are unable to lock into the paint. For other paint sealants, their particles are smaller but are still not able to completely seal the holes. CS-II Ceramic Coating fixes this problem by sealing the holes and creating a smooth surface which causes contaminants and water to slide off the coating without damaging the paint surface. Our CS-II Ceramic Coating is a semi-permanent coating that bonds with your car's paint work, creating a surface which causes contaminants and water to slide off the coating easily!
CS-II Clear VUE Glass Coating is a glass protection treatment which provides an invisible, water repellent, non-stick barrier to protect a variety of surfaces such as glass. It chemically bonds to the glass, so it will last up-to 12 months. CS-II Clear VUE Glass Coating protects against scale and/or salt damage, while making the surface extremely easy to clean. This long lasting invisible shield can be applied to glass, ceramic tiles, stainless steel and chrome surfaces which provides protection that would repel both water and oil based stains.
CS-II Fabric Coating provides outstanding protection from accidents that might occur while inside of the car. Nobody wants embarrassing dirt and stains worked into their seats or interior!  Your car's carpet and fabric upholstery will be look amazing, leaving you with an interior you can always be proud to let passengers experience! Fabric Coating is applied carefully to the fabric areas in your car, truck, or SUV, thoroughly coating every single fibre. Once completed, this compound will seal your fabric and upholstery, keeping is protected from grease, dirt, and stains. CS-II Fabric Coating will help your fabric keep the original vibrant look it came with the day you purchased it!
CS-II Leather Coating is the absolute best in protection for all of the various leather surfaces throughout your car. CS-II has created a high-tech product that will provide that great soft feeling while staying durable, of course, being protected like no other without creating an extra glossy finish. Leather Coating will resist stains, dirt, blue jean dye transfer and UV rays for years to come.  All you will have to do to maintain your leather from now on is simply wipe the surfaces with a damp cloth.  Leather Coating comes out on top against so many of life's challenges such as your kid's crayons, markers, pop, juice, and even glue. Keep your leather looking good as new. See us today!