Allure Detailing Solutions is your SB3 coatings authorized installer in Southern Alberta.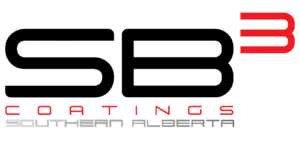 SB3 Ceramic Coating Packages Available
Discover the power of protection with our 1 Year ceramic coating for cars. This entry-level solution provides a durable shield against dirt, water spots, and UV rays, enhancing your car's appearance and making maintenance a breeze. Drive with confidence knowing your vehicle is safeguarded by our reliable and affordable ceramic coating.
Take your car's protection to the next level with our 2 Year ceramic coating. This mid-tier option offers superior hydrophobic properties, repelling water, and ensuring a long-lasting glossy finish. Say goodbye to swirl marks and minor scratches, as our 2 Year coating keeps your car looking stunning for years to come. Invest in the future of your vehicle with this advanced protection solution.
Unleash the ultimate defense for your car with our 3 Year ceramic coating. Designed for car enthusiasts and professionals, this premium-grade solution delivers unmatched durability and an unrivaled mirror-like shine. Prepare your vehicle for the toughest environments as our 3 Year coating creates a high-performance, chemical-resistant barrier, guarding against environmental contaminants and preserving your car's pristine appearance.
Reach the pinnacle of ceramic coating excellence with our 7 Year offering. Crafted using cutting-edge nanotechnology, this top-of-the-line coating provides an impenetrable shield against scratches, oxidation, bird droppings, and more. Your car will maintain a flawless showroom finish with minimal maintenance, thanks to the self-cleaning effect of 7 Year. Elevate your car's protection to unmatched heights and experience automotive luxury at its finest.
Have scratches, swirls or faded paint but don't want to take your vehicle into an auto body shop because they're not through the paint? Tired of touching up your paint chips yourself and making a mess? We can help.
We don't cover your scratches and paint issues. We correct them with our professional products, equipment and fully certified staff. We are able to permanently repair heavy scratches and scuffs and bring faded, weathered, sand-blasted paint back to its original factory lustre. Application and preparation time are less than traditional clear coat application, resulting in faster turnaround times and  considerably lower costs. The end result looks, feels, and is as permanent as the factory coating.
Lasting Protection
SB3 products offer lasting paint protection, unlike wax or sealant, that will wash away or break down over time. It is a nano-ceramic coating that forms a permanent adhesion to the paint and can only be removed through abrasion. No chemical you'll encounter can dissolve the coating.
Protecting your investment is critical to you. SB3 Coatings International has a full range of Ceramic Coatings to protect almost any surface. Our Surface Specialists are factory trained and constantly updated with the latest innovations to help them produce superior results.
A ceramic coating chemically bonds with the paint, creating a long-lasting protective layer. A ceramic coating protects the clear coat layer beneath it. The clear coat layer protects the colour layer of your car, but your clear coat can become damaged and scratched pretty easily. Even light abrasion with the clear coat can cause visible damage; therefore, having a protective layer on top of it is very important. Ceramic coatings protect against UV rays from the sun. Without protection, UV rays can eat away at your car's paint, causing oxidation and fade.
Detailing Services & Packages
We offer
outstanding quality

by using the best products and taking great care with your vehicle.
All four seasons in Lethbridge, Taber and Southern Alberta are harsh for your vehicle. From the heat and harsh UV light of summer to the cold snow and ice in winter. And wow, could we forget the wind? That wind carries dust and other harsh particulates that can do damage to your paint and glass, whether your vehicle is moving or parked. How do you protect it? 
When your vehicle is exposed to the harsh climate in Lethbridge, Taber and along our highways in Southern Alberta, there are a few things you can do and not do to protect your vehicle and keep it looking its best.
After a drive in winter, your vehicle is likely covered in salty spray, ice and snow. Use an eco-friendly soap and wash your car to get all of that debris off your vehicle. The best way to keep your vehicle looking great is regular washing, as it prevents the buildup of damaging pollutants and contaminants. If washing your vehicle yourself, we recommend a touchless wash or pressure washing the vehicle by hand.
Avoid automatic washes with rotating brushes and the hand brushes at self serve locations.  Those brushes are dirt collectors ready to rub contaminants all over your clear coat and paint, causing wear, swirl marks and paint damage. (If it's too late, or you want to further protect your finish, consider our scratch and paint repair).
Don't forget the inside of your vehicle. Carry a garbage container and a couple of clean microfibre cloths. Wipe down your dash and vacuum your vehicle regularly as food and dirt can cause abrasion on your seats and door cards, prematurely wearing them out. If you can't get to a vacuum, bring it to us, and we can protect your fabric with our A La Carte fabric and leather protection. It's a cost-effective way to add a piece of mind.
Gift Cards
Give the gift of time to someone you care about by having us do the hard work of detailing their vehicle for them. Put some pride back in their ride or just treat yourself! 
Gift cards are redeemable at Allure Detailing Solutions Lethbridge location only.